Eating In Riga
Just like with other cities around the world, Riga is no different with the fact that most classy and luxurious places enclose the largest squares and most trendy sights. However, when you get some local tips and information, you can easily find the most affordable dining places located just around the corner or within a walking distance from your hotel.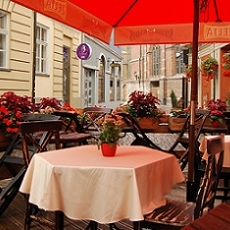 Steiku Haoss
Steak is our specialty, and we perfectly know what that demands. Guests are welcome to see what we can do with our expert hands, but the truth is, it all begins long before that. With selected beef providers and flawlessly timed aging – the two circumstances that must be achieved to achieve results deserving of the best compliments on juiciness and tenderness. This is one of the reasons why we only use suppliers that understand where to obtain the best beef raised in Southern Europe, Scandinavia, the USA and Argentina. With steak, it is crucial to not mess with things and keep everything simple. Which is why on our menu, our chefs stick to the basics, and stay away from applying exotic marinades and sauces that may disguise the real flavor of the beef. Of the seventeen distinct steak dishes we offer on our menu, any of this can stand alone as a showcased menu – whether or not it be the naturally strong-flavoured Argentinian bife de chorizo, our beef loin matured in olive oil, or the lean, yet juicy, fillet mignon. We provide a large selection of takes on the classics, like shank of lamb in mint, venison tenderloin, pork ribs and salmon steaks – all are prepared right on the grill.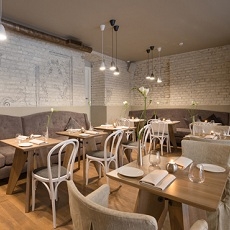 Muusu
Restaurant Muusu is a tale of principles and beliefs formulated through years of experience and knowledge. We compliment elegance and convenience; each detail matters. The Nordic interior – simple lines, natural brick walls, linen textiles and wood in mixture with metal is a delightful backdrop for that which is necessary – the meals and our feelings. The Muusu food selection offers the ideals of modern day European cuisine. Try in season highlights, like the asparagus gel and local delights – goat's cheese foam or grilled venison meat in a juniper berry port wine sauce. The Muusu chef, Ainārs Volodka has worked in the past in the famous Noma in Copenhagen which is also one of the best restaurants in the world. In Riga, he has put up a team of creative experts. The ascetic plates were made in the Rauna brick kiln are just like a plain canvas to paint on. Whether you want to go for a late brunch, an evening with friends, a business dinner, or a very special occasion, The Muusu restaurant is like a chameleon that can adapt to what you currently want. When you are on Muusu sofas, we guarantee that your time will fly.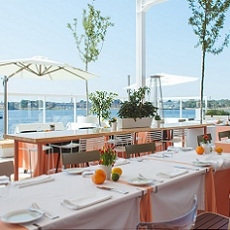 Aqua Luna
Located on the river bank of Daugava in the Andrejsala area of central Riga, Aqua Luna is a restaurant, bar and longue and is one of the most ideal places to visit if you want to enjoy nature, good music, and most of all, great food. The restaurant is just a few steps away from the city centre and most hotels in the area. Come for lunch or business dinner and enjoy some of Aqua Luna's original cocktails in the restaurant's bar or take pleasure with the oriental hookah aroma on the summer terrace. During weekends, the restaurant has vibrant party evenings with a great selection of music both from the best local music names and DJs and international guests. Aqua Luna is just a walking distance from the historical centre of Riga located within the quiet area of Andrejsala. As an old port where deserted warehouses of colonial times are next to a modern yacht-club, chic restaurants, pubs and night clubs, Andrejsala has become a popular area for leisure mainly for its independent youth and bohemian sense of living. Recently, high society and the wealthy started flocking the area. Good food is always guaranteed and you would not want to miss on other things that will make your stay truly memorable.
Vincents
Since it started out in 1994, Vincents restaurant has become the leading dining spot for all those enthusiastic about fine wine and good food. The restaurant is located in one of the most attractive parts of Riga, encircled by Art Nouveau structures. The contemporary interior creates the background for chef Martins Ritins' inspired & continuously changing cuisine. According to a review, it said that Vincents is a "gourmet's grotto and celebrity haunt." And as for the wealthy and famous who already visited the place, it said that "the guest book at Vincents is a cornucopia of praise from President George W. Bush, brothers Prince Charles and Prince Andrew, Paco Rabane, Pierre Cardin, Mstislav Rostropovich, Montseratt Caballe, Maija Pliseckaya, Nikita Mihalkov, Jose Carreras, and Elton John - to name a few." Martins makes use only of the most prime ingredients, usually seasonal, produced by local suppliers exclusively for Vincents. No matter if one has a desire for fish and chips, a love for the best Italian dishes, or a penchant for delectable sushi, the restaurant's critically praised dinner menu varies every week and offers a delicious trip through the culinary world.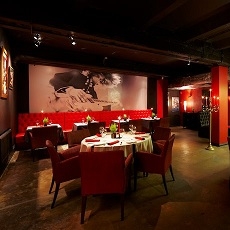 Ribs & Rock
Any big city and vibrant metropolis has a place that is an authority in the art of BBQ. In Riga, there is one place that is the real master in BBQ and that is Ribs&Rock restaurant. The restaurant is the first to present such a wide selection of rib dishes and they are the only one that serve them with solid rock music. The history of Ribs&Rock is about vintage values – equally in terms of good food and good music. Before Ribs&Rock was launched, the head chef converted the kitchen into a sort of kitchen lab, looking for new methods of accomplishing tender and succulent meat – and the result has lead to kind comments from clients and a good selection of fare. Pork is not the only type of meat that they serve because their features a selection of dishes offering veal, lamb and even wild game for those who want a more exotic dish. Ribs and Rock can be considered as the experts in meat; that may be because the restaurant has their own meat workshop. It serve as your guarantee of being provided with only the best of cuts, well prepared using the most delicious of marinades. Being associated with the Steiku Haoss restaurant chain implies that they have access to a wide selection of steaks.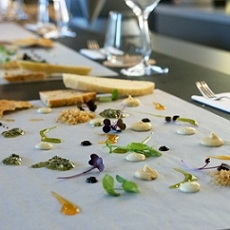 3 Pavaru
Entering through the doors of 3 Pavari, everyone feels as though they have long been waiting here. Unfolding in the vast hall of the restaurant, it seems at first like there is no space, which would be bad to sit down there. The high tables at the windows that also overlook the masonry walls and passers-by, offers a perfect view of the outside. But the most interesting part is the bar counter, which is the same space in the center and then also the place where one should sit. But the place here almost never gets vacant, unless you have not booked. The 3 Pavari restaurant interiors are simple, spacious rooms interspersed with dark ale. On the walls are Evia Ķirsone paintings that are associated with brightness. The general atmosphere of the restaurant is cosy and harmonious. A big bonus - in the evenings you can leave your car almost to the door and you will only be charged 20 Lat for parking all night. Because the truth is that the 3 Pavari restaurant could be tempted to stay still a moment longer and the party goes on for a little more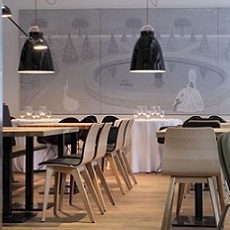 Vina Studija
We are friends and negotiations. Of the sun and in a good mood. About love. We - Wine Studio - You are ready to open the gates to the world of wine. We believe that it is a wonderful journey that never ends. Thousands of smell, sense of taste and ... Wine Studio talking about wine, presents the types of scents and flavors, a wine-tasting culture and special atmosphere. At us you will find not only a good drink, but also friends and associates. Because this is not just about wine. We are about feelings. VinaStudija offers a relaxed atmosphere where you can enjoy a glass of excellent wine, choose a popular snack, sit down and forget the rush days, leaf through the newspaper or meet a friend for a drink. The shop is where you can choose from more than 800 wines of the finest in the world to take away or ask for it to open and enjoy with us. You can easily talk to our wine art scholars. And you can also become the same.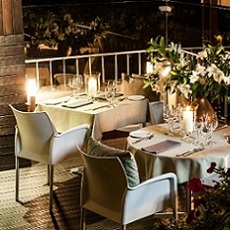 Le Dome Fish Restaurant
The stylish Le Dome restaurant is the pride of Latvian cuisine. Chef Maris Astics reveals to the guests each day new detailed aspects of seafood, exhibits skilled use of products obtained from local farms and makes refined mixtures of tastes while using European culinary techniques. Le Dome menu shows the abundant world of fish dishes where you can easily find plaice, sturgeon, cod, Baltic pilchard, sander and other fishes captured from Latvian lakes as well as the Baltic Sea, prepared in a wide range of methods. Similarly, Maris Astics appreciates other in season products: he makes use of game, fresh vegetables and berries and exclusively prepared sauces to make ever new courses, constantly reviving the menu. Almost everything in the restaurant encourages for a gastronomic journey. Comprehensive wine list, formulated with jeweler's perfection, contains variety of rarities. The comfy interior (gentle color palette, gentle lighting and extraordinary photographs on the rooms) produces perfect environment for a relaxing conversation. There is live music in the evening hours that weaves an imperceptible pattern through the enjoyable atmosphere.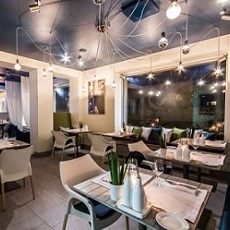 International
An international menu, mini meals, freedom of choice and a unique design and service philosophy together form a new catering culture. SV International, we offer you the emotions generated by the idea, goal, idea, novelties and unique combination of treatment for each of our guests, regardless of whether you've come just to drink a cup of coffee or eat delicious meals. We are independent of any local or national political principles. We have our own policy by which all clients and all nationalities are equal and we actively strive to prove their concept, menu and service style. Our concept allows us to maximize focus on each of our Setting element. Each mini cooking our chef requires careful treatment of the different national traditions in the kitchen, but with a modern approach. Focus on details - such is our service. We are trying to change the customary restaurant industry stereotypes. Our visitors are worthy to enjoy the luxurious dining and luxury service at reasonable prices.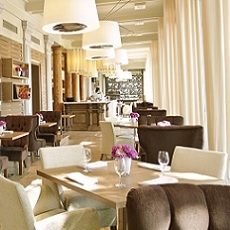 Biblioteka No 1
Biblioteka No 1 is the story of the city's most beautiful park, the possibilities are endless and exciting taste of the world of Italian wine tour in the countryside. Chef Maris Jansons has created a unique library of contemporary Latvian cuisine, bringing together the highest quality seasonal products, rich experience and airy feeling. On the one hand, there is some classics here, but on the other - an endless imagination, taste, and a new sense of quest, which allows customers to turn each lunch or dinner a memorable trip. Biblioteka No 1 restaurant combines nature with rooms, daily meal with a classic flight and daring. It is a journey not only Latvian in the kitchen, but a whole new world. It is a celebration not only for our customers but also employees of the restaurant in a place where generations of combined knowledge, experience, emotion and pleasure to enjoy a good atmosphere, company meal.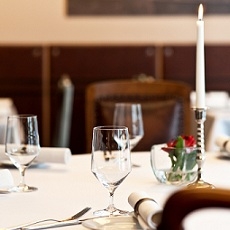 B-Bars Restaurants
B-Bar Restaurant "is like a haven of peace, where the sink velvet balsam atmosphere, free to indulge in the moment and enjoy probably the best cocktails in Riga! Popularity and recognition have gained on Friday and weekend nights' B-bar-restaurant "to the live music nights and themed events. The restaurant has also thought about the children's entertainment. Small visitors we have equipped a wide playroom. During warm seasons and sunny days of "B-bar-restaurant", guests stay mainly on the outdoor terrace, which the adjacent Dome ancient glow lets them feel the atmosphere of the Old Town attraction.
Index Café
Brilliant demonstration that functions to enhance their comprehensive and diverse menu. Healthy and balanced food, excellent coffee and affordable meals, all cautiously selected to encourage a healthier lifestyle. The cafe is a place where you can "eat on the spot, have it delivered or get some to go."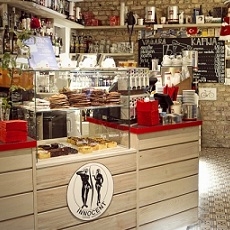 Innocent Café
Innocent cafe offers people properly prepared coffee, subject to all of the basic principles that make coffee so delicious. The cafe menu is always available with freshly prepared dishes from pure rural products. Excellent atmosphere and hospitality is what makes the good folks here to return. Innocent Coffee Masters was founded in August 2010 and is the official distributor illycaffe Latvian. We supply illy coffee shops and coffee and we market a specialized store Blaumana Street 34-1A. Here the coffee lovers who want to enjoy illy coffee in a cozy atmosphere are welcome to our cafe Innocent Cafe.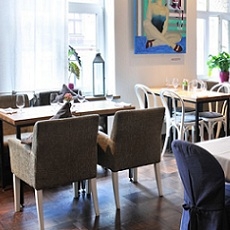 K.I.D.
KID is a creation of freshness and lightness. Both the menu and the Scandinavian interior is simple, but at the same time subtly wonderful cozy environment. Also excellent service and affordable prices are of good value because it is our idea of a good restaurant. Maybe that's why KID often keeps out of foreign food chain, which is Latvian franchise. KID restaurants offers an easy salad bar - a counter-seasonal, mostly locally sourced ingredients, which do not allow to get tired of uniformity. Our chef is a successful internship at the prestigious Copenhagen for three years from the site of the world's best restaurants recognized Rentals, and felt it in the menu, where we have combined Kosaka from various European countries for kitchens. WHEN working days, the café is open from 08.00 hrs on Fridays and Saturdays - until the last visitor gets out. It also explains why we love early breakfast and business lunch goers, as well as families with children and late dinner.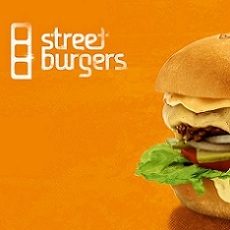 Street Burgers
Our philosophy is to be honest with our customers and provide the best of it, which can be found here - LATVIAN. Beef, lamb here in the Latvian countryside. - It is our pride. Of course every now and then we all sagribas burger, a real, juicy, delicious bread and good meat, but too many times I felt that I should resign from this product. Latvian could not taste any burger that not make me feel heaviness or nausea. Most of my friends shared this view, and from it came the idea - must be something about what he'll be happy. The idea for this came burger stand in the same parking lot, where we also find ourselves. The first came to the place and then the name. I decided that we will use only the freshest products on a daily basis will be prepared in our kitchen. the fastest and friendliest service and most generous customer, any one can. Of course, the most important product of all was, and remains in meat comes from beef (bull - Cheryl, angus, Highlander varieties), which is made so that the taste for meat, not for meatballs or shriveled rags. After more than four thousand hours of hard work to have everything exactly as I want, after more than eighteen sleepless nights, and PAT loss of good friends in the process, I know that I have something which I can actually say I'd love to own. - Tastes good to you - STREET BURGERS founder Alexander Vēvers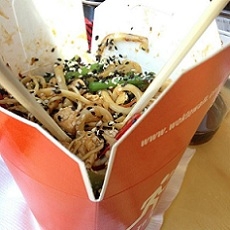 Wok To Walk
Wok to Walk is an international chain of coffee shops offering based on the South Asian wok-fried dishes. The food is prepared within a few minutes of fresh produce. It can be enjoyed both on the spot and take away with a meal at the office or in the park. Wok to Walk cafe interior largely represents the same concept of cafés - easy, fast and convenient. Restaurants spacious rooms have a pleasant stay in atmosphere that gives a feeling of spaciousness and comfort. The menu is based on the South Asian dishes, which are more or less aligned with the western understanding of Eastern dishes, but Wok to Walk in their dishes have been able to maintain high Asian exotic. The choice is simple - choose the beginning of rice, noodles or vegetables, then choose one of the additives - such as beef, broccoli or pineapple (the choice is really wide) and then one of the delicious mērcītēm. Everything is made fresh on the spot.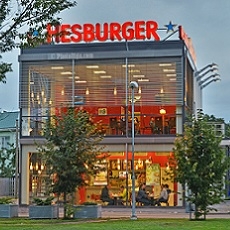 Hesburger
Hesburger's story begins in 1966 in Naantali, where Heikki Salmela with his wife Kirsti Salmela founded his first barbeque kiosk Kievarin Grilli. In the 1970s, continued to Heikki and Kirsti's way as barbecue entrepreneurs from Naantali to Turku, where especially Trätorgets Grill was popular among city residents. In the 1980s, spread to fast food culture more strongly in Finland and at the same time also opened the first fast food restaurants. In 1980 was also founded the first restaurant named Hesburger in the newly opened shopping center Hansa Shopping in Turku. Hesburger restaurants packaging materials used have evolved over the decades constantly environmentally friendly. Carefully selected packaging materials and methods are used take care of not only your food delicacy but the environment as well. Hesburger burgers are offered nowadays always packaged in a wrapper. Bigger burgers are around to give further support board tape, but plastic and carton have been discontinued altogether. Biodegradable wrappings for the duration of the moisture are responsible for biopinnoite. Environmentally friendly coating replaced the old plastic PET film, which does not decompose.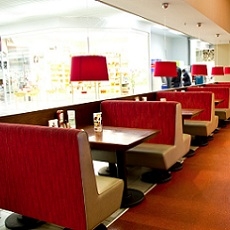 Cilly Pica
Pizza history is still in the mist because there is no clear evidence that the nation has invented pizza. Nevertheless, the history of pizza on the way there are many interesting facts. We can only speculate who invented pizza. Pica, the one we know today, is bread crust with a tomato base and covered with toppings. Tomatoes were not available in Europe until the 16th century, Spanish sailors brought them from America. Modern pizza bread foundation, tomatoes and other sprinkles just yet emerged later in history - around the 18th century Naples, Italy. Italian folklore claims that the former pizza originated in Italy. There is clear evidence that in ancient times, the ancient Greeks and Romans had bread, which was decorated with spices before baking. From historical writings are Sinamo the Greek pizza was a vegetable, while the Italian pizza originating in a lot in the complex. They were decorated with pieces of pig, olives and sweet pizza with honey, raisins and nuts. Some of these sweet pizza recipes are still around, and are used today.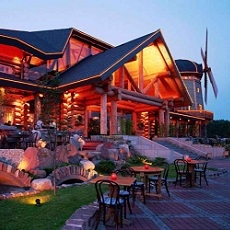 Lido
LIDO is among the first private companies to be established since Latvia declared the restitution of independence. LIDO restaurant and bistro network was founded 25 years ago and has become a modern Latvian essential part of the country's current image. Almost every LIDO network development stage related to innovative and original treatment of the business and the customer. LIDO-food chain is the establishment of democratic bistro with an extensive menu and a wide selection for every customer with the principle of an open kitchen and food preparation process, as well as the LIDO-specific interior and furniture design. The bistro's brightest historical events related to the economic changes of the former USSR, the mid-80s, when grasping opportunities for private business. LIDO was established in 1987 and continues to be the founder of Gunāra Ķirsona, property. During the year, became the first restaurant bar LIDO in Riga center, Lachplesha Street, 53, who worked for eight years. It operates in the city life, introduced a bohemian atmosphere and led many to believe that a private business is possible in seemingly impossible circumstances.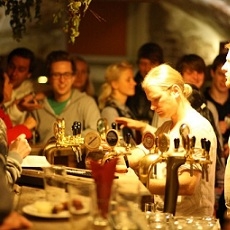 Ala Pagrabs
AlaPagrabs is a folksy pub in the heart of Old Town and considered as the first and only Latvian folk music club in the region. This is a pub for everyone to enjoy Latvian dishes, listen to Latvian folk and world music, dance traditional dances and relax in a Latvian atmosphere. Our mission is to create a place of Latvian life care news, promotion and the world of traditional cultural exchange. AlaPagrabs is like no other place in the Old Town with the sounds of live music at least four nights a week, and takes a lot of concerts with local folk musicians, as well as international concerts and dance evenings. That is what all of this can be enjoyed with any of our 14 Latvian beers and modern and traditional Latvian cuisine. It's all very democratic prices!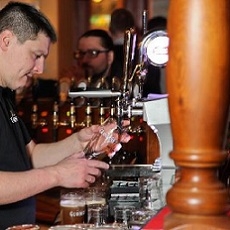 Moloney's Pub
Moloney`s Pub has always been the easy Irish experience located in Riga old town ever since 2011. No matter if you happen to be looking for live music or a peaceful corner to drink a dram of whiskey, the Pub's warm and friendly staff will always make you feel right at home. Stop by for a fantastic pint after a hard day's work, superb cheeseburger and watch a football game, or take an order of the pub's popular Fish & Chips when the feeling hits you. This is also one of the pubs in the area that is popular among the locals. This is the ideal place where you can get a casual bite coupled with a few pints of the best of drinks they offer. This is also the ideal pub that will make you feel great and a place that is always vibrant with that renowned Irish ambiance and hospitality.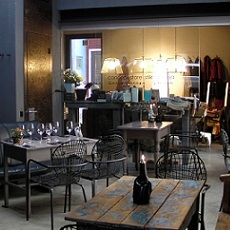 Garaza
Garaza Bar and Restaurant is a nice meeting place for a relaxed atmosphere and get a cocktail or wine while savoring delicious food, sitting in the car seats design at the bar or enjoying your drinks while sitting on train chairs. Garaza offers different kind of banquet (both catering and bar) organization making and servicing. They have provided excellent meals for corporate events of up to 600 persons in companies such as SIA "Baltic Narvesen", Ltd "Hansab" International Airport "Riga" and others. If you are interested in what we can offer directly to your events, and will be glad to cooperate in the development of both the food and beverage offer according to your wishes!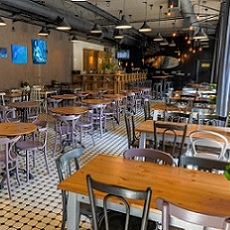 Andaluzijas Suns
Andaluzijas Suns restaurant is popular with both guests and locals who love a good meal outside their homes. In this relaxed atmosphere is the most appropriate place to not only enjoy some of our existing drinks at the bar and choose the meal from our menu, but also to meet new friends, prospective colleagues or simply enjoy the enchanting atmosphere of the restaurant. Andaluzijas Suns is a democratic pub for all tastes, ranging from free space industrial style and ending with dishes from hamburgers to chop Latvian style. Emphasis will be placed on the TEX-MEX. If you do not want to overeat, yet are able to choose from Lenco (12:00 to 17:00) special offer or special drinks. Our offered range of options includes sports games on the big screen, various events, banquets in our premises and elsewhere, so only your ideas aligned with our capabilities and positive emotions is guaranteed!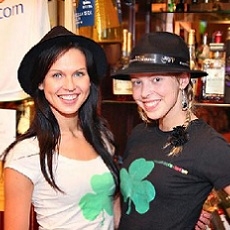 Paddy Whelan's
Paddy Whelan's, is Latvia's first Irish pub that offers fifteen different kinds of imported and local beers and ciders. The pub has an extensive menu that includes not only typical Irish dishes, their Indian chefs are also happy to cook from their Indian menu. In the pub, you can sit back and relax. They show all major sporting events-even on TV. Just ask the staff and they will help you to find the right screen. They also have areas for smoking on the second floor. When legendary singer of the Pogues, Shane MacGowan, was in Riga as he dived course up at Paddy's for a Guinness and a whiskey. Over the years the pub had many musicians and bands that played in the venue. If you happen to be a traveling musician, just ask the staff if you want to play so they can arrange a gig for you.
When in Riga, your dining options are variable. Your choice will define what you want from affordable fast food experience to luxurious fine dining. All these will of course depend on your budget. And while Riga may not be as cosmopolitan as Paris or New York, it still offers a decent list of national cuisines and if you want a little surprise, you can even find the best sushi in the world right here in the city.